uilding a bank these days takes much more than bricks and mortar. It takes skill and planning to succeed well into the next millennium. A remodeled bank enhances the value of the bank to shareholders, customers, employees and the entire community. Overall, a less-institutionalized building will, without a doubt, improve performance on the street.

It is obvious that the rules of banking are changing and so is the appearance of banking - just ask the newly remodeled Arvest Bank in Joplin, Mo. While a lot of other banks are meeting behind closed doors and worrying about the competition, Arvest Bank is focusing on the future by breaking down the barriers that traditionally exist in a banking environment.

Arvest Bank is an expansion of

"The bank's main purpose was to distinguish itself from the previous owners. By spending time and money to change the appearance, it sends a message to our customers that Arvest Bank is here to stay."

- Doug Doll
President, Arvest Bank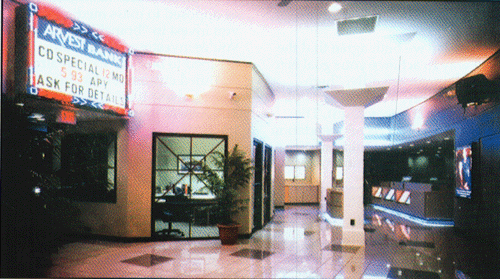 Arvest Bank's new retail look boasts electronic message boards, open offices encased in glass, TVs in the lobby area and back-lit prints in front of the teller line.
the Arvest Bank Group, owned by the Walton family from Wal-Mart fame, with locations in Arkansas and Oklahoma. The company dates back to 1961 when Sam Walton purchased the Bank of Bentonville, Ark. Since its inception, the company has grown to 12 different charters, including two recent acquisitions, and 45 banking locations. Through an expansion of a thrift charter, the Joplin facility at 7th and Main Streets is the company's first entry into the Missouri marketplace and is currently the only bank to carry the holding company's name.

To succeed, Arvest Bank knew it had to set itself apart from the competition. With the help of Stephen Morrill, principal owner of SLM & Associates, and Powers Construction, the bank underwent a major remodeling effort that turned a traditional 1960s bank building, most recently owned by Mercantile Bank, into a masterpiece.

"The building is in a half-moon
shape which made the utilization of space even more challenging," said Morrill. "To create the look of openness, we gutted the interior of the building and built offices without doors around the perimeter which were encased in glass. The columns that ran through the middle portion of the building were transformed into lighting structures. We followed the philosophy that anything intimidating won't work."

To follow the theme of retail design, electronic interchangeable message boards were added to the front, back and inside of the bank which provides a vehicle to display messages to its customers. Dark green canopies were added over the windows and a canvas awning with decorative lighting provides shelter to customers entering from the back of the building. In addition, easy-to- clean polished tiles were added to the lobby and teller line areas.

"Many people think that the old building was torn down," said (next page...)