STATE BANK AND Trust, NA, a nine-bank chain in Tulsa, Okla., may have figured out the secret behind retail banking. In so doing, this innovative bank may offer a lesson for traditional retailers, not to mention traditional bankers.

At State Rank, retail banking is not a word game that simply replaces the word service with the word product. As any retailer knows, there's more to retailing than that. Retail is not a promotional game that aims to swap toasters for savings accounts.

Retailing is a set of relationships among people some of whom sell and some of whom buy. Successful retailers establish these relationships in certain ways. They build stores, for example, that convey a retail image or communicate a retail attitude about what the store has to offer customers.

State Bank and Trust has built a store. It is perhaps the first bank in the country that looks and feels and even acts like a store.

Gone are stern walls, glaring fluorescent lights, and tellers imprisoned behind teller stations. In State Bank's newest Tulsa store, which opened in the fall of 1994, you will find bright neon lights, high ceilings, gleaming tile floors, and lots of signs. Waist-high counters make it possible to see the teller you're dealing with. If you have to hang around for a while, you can have a seat in a lounge and sip on a cup of coffee. You can bring the kids if you like. The bank provides a play area and offers lollipops and popcorn to keep children occupied.

Out front, a canopy protects you from the weather when you park your car.

Out back, the canopied drive-thru banking area sets up so that you face your banker head-on. As always, you drop your paperwork into a device located on the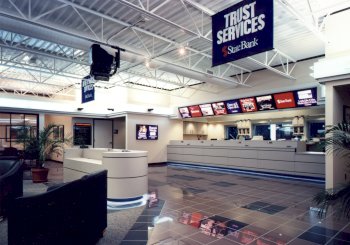 In its intent to "take a page out of the retailer's book," State Bank and Trust
in Tulsa has incorporated elements indigenous to retail: high ceilings and
gleaming tile floors (above), a neon-lit entrance (below), and a drive-thru
banking area with fast-food appeal (bottom).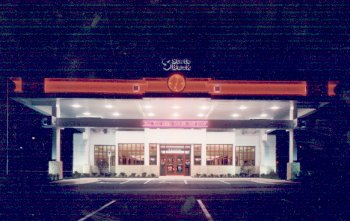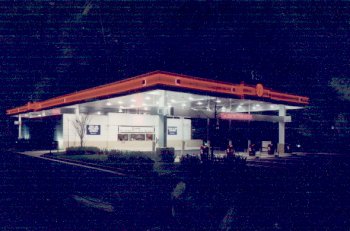 driver's side of the vehicle. But your banker is directly ahead of you. If there's a wrinkle in the set-up, it's that you may be a little far away to give your car room to exit, the teller devices stand about 10 yards from the teller windows. But that's a quibble.

State Bank keeps retail hours, too: 8:00 a.m. to 8 p.m., Monday through Friday, and 8:00 a.m. to 4:00 p.m. on Saturdays at most branches.
When you walk into State Bank, a greeter says hello and asks if you need help. After a few visits, the greeter addresses you by name.

"We're trying to take a page out of the retailer's book," says Burton E. Stacy, president and CEO of State Bank and Trust, a member of the ARVEST Group, which is owned by, guess who, the Walton (as in Wal-Mart) family. (next page...)